Interview with Naïm Poonja-Tremblay
Naïm  grew up in Montréal and studied bioinformatics, a field in which he had the opportunity to explore as a worker in his university research lab. However, his passion was elsewhere. Throughout his initial career path at school, he enjoyed climbing and it became more than a hobby for him.
Living in the West Island, he noticed that there were no climbing centres in Dorval. To practice his sport, he had to go through a long distance as every other adept from his district. So, he found a business opportunity there!  With two friends he develops his project, leaves his future in bioinformatics behind and decides to launch himself into the unknown world of entrepreneurship! They complete the Self-Employed Program in 2017.
So here is what he had to share with us in an interview, about his journey, almost 5 years later.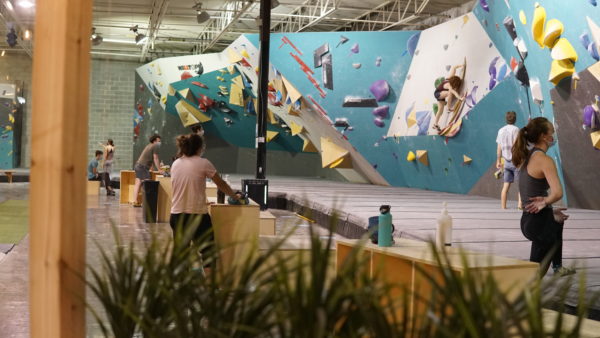 What did SAJE bring to your career path?
"I had an idea, but no formal business education. SAJE really helped me by introducing me to all the fields an entrepreneur needs to be aware of. "
What is the mission of Beta Bloc? 
''The mission of Beta Bloc is to make climbing accessible by creating a welcoming place where people find a community and share their passion"
Moreover, the team has thought of everything by setting up an after climbing space for those who wish to have a coffee, a beer or a meal.
Do you think that in business, certain sectors such as recreation and sports are more difficult considering the offer on the market? 
 "It depends on many factors, but in my case, not necessarily. I believe that no matter what industry you're in, if you're really into your passion and you can differentiate your product in the industry with your own competitive advantages, you can be successful. "
What are the main challenges you have faced over the years? 
The first year of start-up?
   '' The most difficult part was the visibility. At the beginning, nobody knows your concept and you must be creative to make sure that customers get to know you. "
To succeed, Naïm and his team developed their social media presence and participated in several local events.
Passing 3-years?
   "The challenges are completely different, after 3 years. It's more about delegation. At first, we did everything ourselves, but at some point, you must hire to move forward. Now we have 19 employees."
And now, 5 years later?
  "The government regulations during the pandemic were the biggest challenges. Now we must continue to grow by adapting to all measures without losing our corporate culture."
We hope that this journey has inspired you and you have learned something. We wish Naïm all the best for the future, which looks promising. Like you, we'll have to keep up on Beta Bloc website and social media if we want to discover more about it.